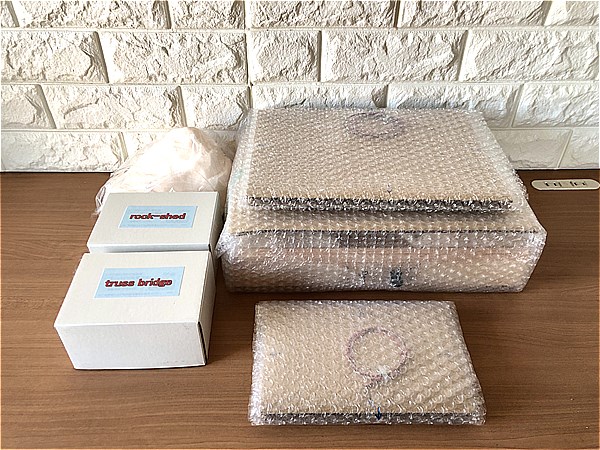 Our packaging has earned us a good reputation in Japan. We take pride not only in our handmade products, but also in the packaging of our products.
As we will soon be selling our products on eBay, we would like to introduce our packing methods.
We are committed to safe packing methods that can withstand the rigours of international shipping. We want you to feel confident in your purchase.
Packing method for hand bending flex Tracks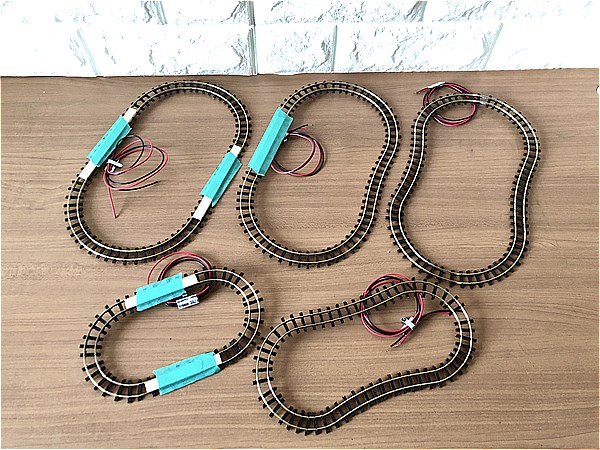 Narrow Gauge Shop offers a wide range of Flex Tracks for sale.
When packing Flex Track, we take care of two things
Make sure that the tracks are not damaged
The feeder wires must not be damaged (or broken)
First pack using two pieces of cardboard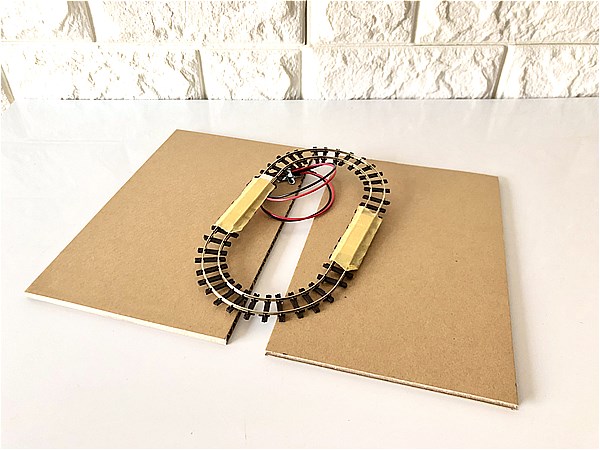 To protect the track, we hold it tightly with cardboard.
Protection of feeder wires
To prevent the feeder wire from breaking, drill two holes in one piece of cardboard and pass the wire through the back.
The feeder wires are then brought together at the back and held in place by the other piece of cardboard.
Air cushion for extra protection
The Air cushion provides additional protection against shocks.
Put in cardboard box
Place in a cardboard box with an air cushion inside.
It is about 7cm thick and weighs less than 200g.
If the cardboard box is thrown and kicked, the Flex Track inside will not be damaged. It has been tested many times.
In the case of layout baseboard with small wooden truss bridge and rock-shed
Our layout baseboards are made of separable parts to ensure safe packaging.
For example, the "Layout baseboard with small wooden truss bridge and rock-shed" can be divided into five parts.
Baseboard with piers
Track
Bridge
Rock-shed
Mountain parts
By packing each part individually, we reduce the risk of damage and ensure that the product reaches you safely.
1.Baseboard
The piers and frames are also protected by sanding the track with cardboard.
Air cushion is also used to protect them from scratching. 
2.Track
As with the "Flex Track", two pieces of cardboard are used for sanding.
Take care not to break the feeder wires and protect them with air cushion.
3-4.Bridge & Rock-shed
For particularly delicate parts, such as bridges and structures, we use small boxes.
The parts are placed in a plastic bag and then in a box with a fluffy cotton lining.
Put in a cardboard box
Place all five parts in a cardboard box lined with air cushion.
Fill the space with packing paper to prevent the contents from moving inside the cardboard box.
Roll up a piece of stiff packing paper to make a cushion in case of impact.
Close with tape and you are done. It will now be safely delivered to you.
Contact us
Please feel free to let us know what you would like us to sell!!
Narrow Gauge Shop
Satoru Mimura
1-15-27,Negishi,Machida,
Tokyo,JAPAN 194-0038
E-mail narrow_gauge_shop@ae.auone-net.jp
https://www.youtube.com/c/narrowgaugeshop
https://www.pinterest.jp/narrowgaugeshop/
We're very active on YouTube and Pinterest, so we'd love it if you'd subscribe to our channel (follow us) and hit the good button.
How to make HOe Micro Layout Baseboard with Self-made Turnout by Narrow Gauge Shop